The Strength of Steel in Bridges
Steel's inherent strength, light weight, versatility, and high recycled content make it ideal and the most sustainable choice for bridge projects.
Steel's high strength-to-weight ratio makes it an ideal choice for long spans.
Offsite steel fabrication enhances project efficiency, reduces construction periods, and lowers costs.
Lighter steel structures attract lower seismic forces.
The CISC Quality Certification program for bridges ensures the highest quality and safety standards for your project
CISCWebAdmin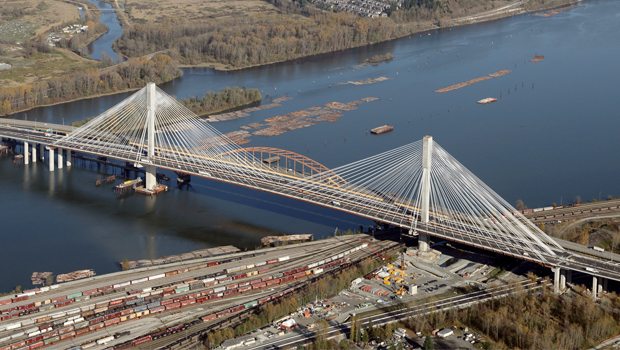 The Port Mann Bridge Highway 1 project was tendered in 2007 as part of the Gateway Program in Vancouver, B.C. The project was part of the B.C. government's program to upgrade the transportation network in the Vancouver Region in order to ease congestion on Hwy 1. The scope of the project included upgrading approximately 37 kilometres of highway, including the existing bridge crossing of the Fraser River. The project called for doubling the capacity over the river, expanding the five-lane facility to 10 lanes. Port Mann Bridge main span Canron Western Constructors LP live up to the challenges
Ensuring that our members and associates are well informed about steel bridge construction is important to the CISC. Areas relating to code compliance, safety, security, innovation and the environment are all key issues.
The CISC is taking a leadership role in developing future bridge inspection programs. This is in effort to optimize decision making for replacement, restoration and maintenance issues relating to bridges. In excess of 40% of the bridges currently in use in Canada were built over 50 years ago and a significant number of these structures need reinforcement, rehabilitation, or replacement.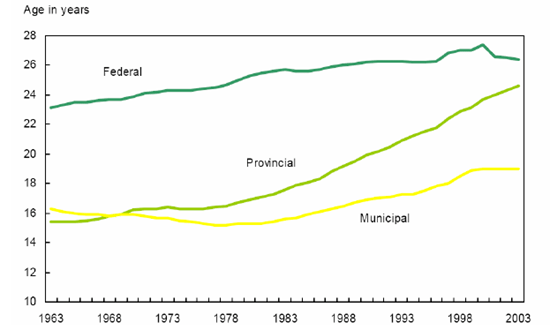 The chart shows the average age of bridges by Authority. Reference
Steel has high tensile and compressive strength, easily meeting structural requirements and the installation of steel bridges is more versatile and efficient. It offers cost savings in using skilled labour, as steel is produced in the workshop. Transportation, demolition and facility in conducting repairs are also strong advantages to steel bridge construction.
The high quality of steel for bridge construction and innovative construction methods, have made the production, fabrication, delivery and installation of long span steel bridges a preferred option, resulting in a uniform level of performance. Steel offers great advantages over other construction materials, due to its capacity to better withstand stress and fatigue, and its higher seismic resistance.
Steel bridges also offer economic advantages, are extremely durable and are adaptable to different locations. They are also resistance to climate change, since steel is produced under tightly controlled mill conditions and is homogeneous and predictable in behavior.
Articles of Interest